101 Essential Rock Records – the Golden Age of Vinyl from The Beatles to the Sex Pistols
By Jeff Gold
(Gingko Press, 240pp, £34.50 (hbk)
  The ongoing debate about the monetary value of music notwithstanding, there seems little doubt that its cultural currency is still held in high regard. No matter where or through which device we listen to music, it still seems to hold our attention, it still seems important to the vast majority of people engaging with it. Does it matter how we receive it – whether via in-car radio or Dr Dre Beats headphones? Does it matter whether it arrives digitally bare-butt naked, or whether it is presented in a thoughtfully designed gatefold sleeve with all the peripheral information (songwriting credits, production details, and so on) an avid music fan might wish for?
101 Essential Rock Records…, would argue that, while the music is by far the most important reason (based, pivotally, on the fact that we personally connect with it in some way), what comes with it is an enhanced cultural experience that digital delivery simply cannot offer. The book also argues, persuasively, that digital's instant delivery service has neutered not only the sense of expectation of a musician or band's forthcoming material but has also, effectively, prohibited future collecting of records. Or, in the context of this very fine coffee table book (the exquisite production of which, like the cultural artifact it praises, might well be a dying art form), the collection of vinyl albums.
There is hope, however, based not on nostalgia or sentiment but cold, hard sales figures. The book is overseen by American music collector, dealer, label executive, historian and writer Jeff Gold, who claims that America, at very least, is experiencing a resurgence in sales of vinyl albums. "In 2010," he outlines in his enthusiastic introduction, "vinyl was the fastest growing music format. In 2011, US vinyl sales topped 3.6 million units, 37 per cent more than the previous year." Vinyl, says Gold, "is the format that just won't die."
  And so 101 Essential Rock Records… presents, in chronological order, albums from The Beatles' Please Please Me (released March 1963) to the Sex Pistols' Never Mind the Bollocks (released October 1977). In 1979, writes Gold, Sony introduced the Walkman, and shortly after that cassettes started to outsell vinyl. The decline of vinyl as a mainstream – and, perhaps crucially, unwieldy – format for music began. Vinyl's 'Golden Age' was over, laments Gold, and portability became a consumer demand as well as a technological enterprise.
There was a simple (if consistently fractious) rule for inclusion: all had to be deemed 'classic rock'. Subjectively chosen – with very few surprises – on the basis of originality, quality and influence by the likes of music critics/tastemakers Gene Sculatti, Jon Savage and Geoffrey Weiss (lodge your complaints/plaudits at 101essentialrecords.com), page by page unfolds in quite informative and beautiful detail. The visual format for each album is standard throughout the book – the left-hand opening page is taken up with the album front cover and up to 200 words of informed critique; the right-hand page features the album back cover, an image of the original vinyl and some sidebar info/detail. Boring? You might think so, but the variety and the often breathtaking imagery and design of the album covers make it an immensely adventurous page turner.
  Breaking up this standardized format are engaging essay entries from musicians on their favourite albums; these include Graham Nash writing poignantly on (his former lover) Joni Mitchell's Blue ("she touched my heart and soul in a way that they had never been touched before."), Suzanne Vega astutely on Leonard Cohen's Songs of Leonard Cohen ("I felt he was my good friend and that he understood the world I lived in – a complicated, mysterious, dirty world of intrigue, sex, religion and politics.") and Johnny Marr excitedly on Iggy & the Stooges' Raw Power ("It delivered exactly what was on the cover: otherworldly druggy rock'n'roll, sex, violence, but strangely beautiful somehow. From then on, I just climbed into a world with that record.") Other musicians' entries include Iggy Pop (on Them's Angry Young Them), Robyn Hitchcock (on Pink Floyd's The Piper at the Gates of Dawn), David Bowie on Velvet Underground's The Velvet Underground & Nico, and Devendra Banhart on Davy Graham's Folk, Blues and Beyond.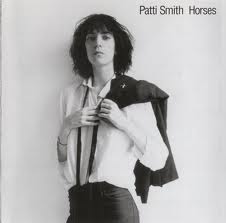 As a love letter to a physical music format, 101 Essential Rock Records… is an aesthetically satisfying piece of work that highlights, perhaps even more than the music, the complementary nature of – and inextricable links between – pop music and visual art/design. Pardon this writer for being so drearily old-fashioned, but it's impossible to even think of Patti Smith's Horses without conjuring up Robert Mapplethorpe's daring front cover photograph of a male-looking woman, or The Beatles' Revolver without becoming immersed in Klaus Voorman's surrealistic drawings. There are 99 other similar examples.
Flaws? Yes, just the one, and it is, unfortunately, a stunner. Gold, in what amounts to an inexplicably serious lack of editorial (if not geographical) judgement has decided to choose the album's country of origin as that of most often identified with the artist. Which means that Jimi Hendrix Experience's 1968 album, Electric Ladyland, is identified as British, Them's 1965 Angry Young Them as British, and Van Morrison's 1968 Astral Weeks as American (!). Gold does likewise with Canadian act The Band, and Neil Young, Joni Mitchell and Leonard Cohen – they are, each and every one, apparently, American. This head-shaking absurdity aside, what we have here is a deep well of pop culture, designed, presented and produced with loving, nurturing care. Make sure your hands are clean before you open it – and then dive in.
(This review first appeared in The Irish Times, March 2013.)