Review: California, by Edan Lepucki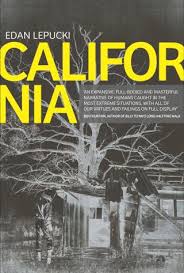 California
Edan Lepucki
Little, Brown
Writers – some smart, some not so – have preyed on the anxieties of people that fear the fragmentation of societal norms. British writer JG Ballard, in particular, was adept at this, fashioning throughout the 1960s acclaimed novels (including 62's The Drowned World, 64's The Burning World and 66's The Crystal World) that were initially viewed as being part of the New Wave of science fiction, and which, subsequently, were regarded as fine examples of predictive narratives.
Such works gave rise to the influx of post-apocalyptic fiction – books that blended a dystopian contemporary society and a dismal terrain with the psychological effects of technological and/or environmental developments. The most recent (and much admired) instance of this was Cormac McCarthy's The Road, which told the unremittingly despairing story of a journey of a father and son travelling across a landscape withered by an unspecified disaster that has destroyed most of civilisation.
Something of a similar scenario lies ahead of Frida and Cal, the two main characters in California, the superb debut novel by American writer Edan Lepucki. Playing cleverly on fears over the endemic rise of antibiotic-resistant super-viruses, the unnerving unpredictability of climate change and the gradual depletion of natural resources, Lepucki places her protagonists in a locale that lies crumbling in darkness. In these troublesome, post-everything times, Lepucki posits a frighteningly intruiging scenario where "the Internet became too expensive and then stopped working altogether."
Frida and Cal, they each assuredly know, tentatively exist, and do not fully understand why they haven't died many months ago. They are, ostensibly, ordinary people caught up in the wake of something completely out of the ordinary, and so are left stumbling through hardship with only themselves for company and comfort.
But are they really on their own? Of course, they are not – it's just they have ended up somewhere that is far removed from what they used to call civilisation (pockets of which now comprise what are vaguely referred to as 'Communities', the governers of which protect their rich, fee-paying citizens from marauding 'Pirates').
"On the map," writes Lepucki of the couple's starting point, "their destination had been a stretch of green, as if they would be living on a golf course… Of course, it was nothing like that. The forest had not been expecting them. If anything, it had tried to throw them out, again and again. Now Frida could only laugh at the memory of herself, over two years ago… Her nails bitten to shit, her stomach roiling. Grime like she never imagined. Even her knees had smelled."
When Frida discovers that she is pregnant she immediately senses not so much fulfilment as fear, not joy but threat. Her husband, Cal, doubts their ability to not only see the birth through but to raise a child alone, and so they steel themselves for another journey, this time to see if they can find similarly disenfranchised yet, with luck, helpful people. Eventually, Cal and Frida chance upon a settlement that is at first guardedly friendly but then threatening. But why are the members of the settlement so paranoid? And so secretive?
Lepucki is rightly regarded as one of America's brightest young writers, and California is something of a genre-expanding tour de force that highlights the writer's highly perceptive, innately feminine and impressively speculative narrative style. Is it too glib or crude to pitch her as the literary love child of Lorrie Moore and any number of Ballardian writers? Perhaps, but there it is.
(This review first appeared in the Irish Examiner, July 19, 2014.)