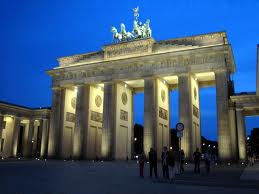 "The city is crazy, the people are crazy – Berlin makes its own rules." These words are spoken by Gabrielle, my guide for a night crawl around a selection of some of Berlin's hipper bars and clubs. Of course, she explained in perfect English, there's no way you could see everything in one weekend, let alone one month, so the night guide was simply going to be a taster of what makes Berlin tick.
The first thing you'll discover on a tour such as this is that you'll need to hang round with someone who not only knows where to go but how to even recognise what lies behind a metal shuttered door. We start off the evening in a restaurant in the posh part of town – Unter den Linden – where even if I'd had directions to the place I know I'd never have found it. Why? Well, it was around this corner, and around that corner, and behind this building, pass by some rubbish bins, up a few steps, into what seems to be an empty building, and then – voila! (or as they say in Berlin, bitteschön!) – you're in the sparse comfort of Cookies Cream, a vegetarian restaurant that has the word 'Ficken' writ large on a sizeable canvas that takes up one of the main walls. Gabrielle and I eat and chat under its brazen art-shock gaze. (If you don't know what the German word 'ficken' means, then Google it. As has been noted, Berlin makes its own rules.)
We make our way by taxi to Kreuzberg, which has been for a while Berlin's must-see alternative area, particularly at night. Those expecting swish bars, stylish interiors and sophisticated clubs may well want to look elsewhere, however, as these joints are utterly idiosyncratic, distinct and so low key they're almost horizontal. Kreuzberg is a vibrant multi-ethnic working class area with a substantial population of Turkish origin; although some sections of the area are fast taking on a gentrified tone, the poorer sections of it resemble parts of inner city Dublin that you might not have thought of entering back in the day.
And yet there's a decidedly laidback vibe to the places Gabrielle and myself enter. Again, if you don't know where these bars are you'll have a tough job trying to locate them – they tend not to have their names emblazoned over their doors. Some bars, also, succeed or fail on the principles of word of mouth. If that word of mouth stops? Well, as Heidi Klum says on Project Runway: one week you're in, the next you're out.
Gabrielle is correct, however, when she points out that Berlin's night scene is not only a healthy social leveler but also one step ahead of the posse. Several of the places we visit – typically Monarch, Mobel-Olfe, Tape and Roses Bar – have a no-holds-barred approach to enjoyment. That is (lest you get the wrong idea), no pretension and no problem in blending in socially, sexually, culturally, creatively or any other way you can think of. If that means transgender bar staff grooving to tunes by Herrmann & Kleine as they serve you a Brandy Alexanderplatz, then so be it.
The music at these places is, in general terms, a broad fusion of electro, techno, electronica and dance. Again, it's interesting that no one style prevails; the DJs assiduously sort through a soundtrack that seems to perfectly complement the buzz of the bar as well as its clientele. Musically speaking, everything is up for grabs, nothing is a problem.
We end up in Tape, a taxi ride away in Hauptbahnhof. This club is actually on the map, so it's easy to find. Again, we enter a space where the interior is functional but where the atmosphere is catch-all cool and relaxed. By 3am, we're back out on the street; we could go to another bar (there are no licensing laws in Berlin, and bars open or close whenever they want to), but tomorrow is another day and today is already taking shape. God knows where Gabrielle ended up, but I went back to my hotel, where I dreamed of crazy people, in a crazy city, making their own rules.