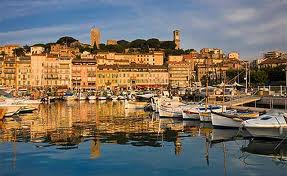 For no good reason that I can think of, Perpignan hasn't been on the list of people's must-see destinations. True, it doesn't readily spring to mind when you tick off places in France you might want to visit, yet after spending a few days here in early April (raining in Dublin; 20-degree plus in Perpignan), a conclusion is quickly reached: you're missing something quite special.
Perpignan might not be as big as, say, Marseilles or its Catalan cousin, Barcelona, but it's a quiet, perfectly rolled gem of a place that is a casual, calm and colourful mix of France and Spain. Historically, it has always been thus. You could say that, in this sense, its heyday was during the 13th and 14th centuries when it was the seat of the court of the Kings of Majorca. The remains of the municipal icon – the Palais des Rois de Majorque – tower over the city; a large pink/white/blue marble fortification that is one of the historical must-sees.
Perpignan was taken, routed and handed back repeatedly during the medieval period until it finally became French territory in 1659, courtesy of the Treaty of the Pyrénées. Over the centuries, it has developed from a cloth-making and goldsmith centre to a respite for repatriated French citizens fleeing the 1950s/60s strife in North Africa; latterly, it has become home to Moroccan and Algerian communities, which, along with its notable Franco-Spanish mix, lends a vibrant multicultural element.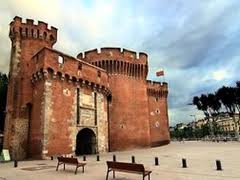 With the Spanish border less than 20kms away, and the Languedoc region within very easy reach of its boundaries, Perpignan is ideally placed for a typically ideal five-day break that blends Old Town charm and a warm urbanised atmosphere with a landscape that includes rugged gorges, sandy beachfronts, flamingo-populated lagoons and dramatic, snow-capped mountain ranges. Truth is, while Perpignan's location – virtually hidden away in the most east-southerly patch of France – may not have done it any tourism favours, it is now assuredly placing itself as a more relaxed alternative to several other cities that you can fly to in southern France. Other definite plus points are its airport (Perpignan-Riversaltes), which is, well, petite (a taxi to the centre of Perpignan takes less than twenty minutes), and the fact that the sun shines for over 220 days of the year.
The city is also placing itself as a guiding light in the arts, with its recently opened contemporary theatre space, Théâtre de L'Archipel, which is designed by 'starchitect' Jean Nouvel (the creator of, among many other works, the Arab World Institute in Paris, the Torre Agbar in Barcelona, and the Louvre in Abu Dhabi, which is scheduled for completion in 2013). The Théâtre de L'Archipel is one of the most impressive multi-disciplined arts spaces in Europe, its different sections referencing (as its title denotes) a cluster of pebbles that lie on the bed of the River Tét. The primary space – the Tower – is finished in metallic gold and adorned with writing from French and Spanish artists/writers; views over the river to Mount Canigou are the icing on this wonderful architectural cake.
Another signifier as to Perpignan's increasing profile is its new cross-border high-speed TGV line, which, when it is completed in 2014, will zoom railway travellers from the city to Barcelona in 45 minutes, thereby establishing an even closer link between the two cities. So you can see that plans are afoot to drag certain facets of the city into the here and now, without, of course, ever wishing to ignore the main reason why people come here in the first place: the network of narrow streets and relaxed sensibilities of the city centre.
There is enough going on in Perpignan to last you a few days, at least. If you feel you want to stretch your legs further than the city boundaries, you can head to the beach by getting yourself and your white skin to the nearby resort town of Canet. This resort area – full of sandy beaches, a marina, and more cafes and restaurants and bars than you'd be able to manage in one day – stretches for more kilometres than you'd think. Like Venice Beach with a French accent, try to negotiate your way all the way down the main drag without wanting to start playing beach volleyball – we guarantee you'll fail.
After the beach, you might just want to stay close the sea theme without getting sand between your toes, which is why a visit to the former fishing village of Collioure is a must. Once a hiding place for the likes of Andre Derain, Pablo Picasso and Henri Matisse, Collioure is the epitome of what you would imagine a former French fishing village looks like. And it really is quite stunning: cobbled streets house more bistros than you can shake a stick at, while the blend of rustic France with contemporary Catalan rustles up one singular surprise after another. But it's Perpignan that keeps calling you back, and so what else can you do except obey?
For a compact tour of Perpignan it's best to start at the 14th century Cathédrale Saint Jean (1 Rue Horloge), whose ornate façade and bell-tower highlight it as one of the region's most intriguing religious monuments. Right beside it is Campo Santo, France's largest and oldest cloistered cemetery; 'La Funeraria' is now an open space for exhibitions and events, but it's also home to a chapel, which contains the most amazing contemporary stained glass windows (by American artist Shirley Jaffe) that bathes the interior in varying technicolour hues.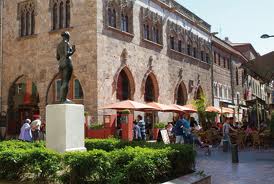 Metres west is Place de la Loge, which, as well as being the location of the lovely Hotel de la Loge, is also keeper of three ornamented buildings that date from the 14th century: Hôtel de Ville (city hall), Palais de la Deputation (a parliament building) and Loge de Mer (stock exchange). Around this area is a small shopping area that doesn't kowtow to modernity too much; also in and around here is the Old Town's network of narrow lanes such as Rue de la Poissonnerie and Rue du Chevalet, which thrum to the beat of friendly late-night bars, some of which are of the al fresco, stand-up variety. Also just off Place de la Loge, on Rue de L'Incendie, is Perpignan's Irish pub, O'Shannon – no, come back, quick! – which plays against type and caricature by actually being a cool brown-hued bar with buckets of atmosphere.
It wouldn't be a proper Old Town, though, without a market, and each Sunday morning there is just that. Get your bearings at Place de République, and from here walk through Place Rigaud onto Rue Emile Zola, which is flanked with finely detailed wrought iron balustrades. From here, streets get narrower and busier, full of small shops specialising in tajine, baklava and couscous. Peer up into side streets and you'll see areas that remind you of Naples and Marseilles – clothes wafting in the breeze, families catching up with each other.
Eventually you'll come to Place Joseph Cassanyes, which, Tardis-like, opens out into a sprawl of stalls. Here is the beating heart of Perpignan, a Sunday morning experience that should be syndicated worldwide to give us all a reprimanding tap on the shoulder: people greet each other like long lost friends, hawkers shout across heads, residents gossip and vistors gawp.
You'll get somewhat snazzier shopping (and snappier sights) in Rue Mailly and Rue Alsace-Lorraine, but the soul of this compact, likeable city is here in all its ragged glory. It says something along the lines of 'welcome to Perpignan, stay a while, relax, enjoy yourself.' Oh, alright, then. If you insist…
 ++++++++++++++
Three Places To Stay
Hotel de la Loge. Slap bang in the centre of the Old Town, this charming, small hotel (22 rooms) quietly delivers tasteful décor, large rooms, and attentive personal service from family owners Mireille and Hervé Barraud.
Hotel Mercure. A pleasant, decent, clean three-star hotel minutes away from the centre of the city. Does exactly what a hotel of this standard should do, which is efficient facilities at a reasonable price.
Centre Del Mon. This is a curious two-level Quality/Comfort property that features a four-star and a three-star side by side. Think exceptionally modern in shades of shiny black and glaring white.
+++++++++++++++
Three Places To Eat/Drink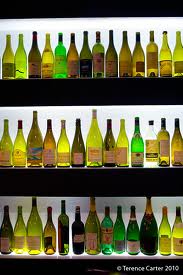 Les Indigenes, 26 Rue de la Cloche D'Or: This is one of Perpignan's foodie success stories – a compact sit'n'share space that serves up basic but toothsome tapas and an extremely wide range of organic wines by the glass – overseen by owner Chris Albero, who is an acknowledged French wine specialist.
Le Bistrot des Crus, 63 Avenue Général Leclerc: Situated opposite the city's multi-disciplined, contemporary theatre space, Théâtre de L'Archipel, this is a sleek eatery ideal for lunch or dinner. The food is slowly cooked and smartly presented, while the wine menu will knock you for six with good by-the-glass wines at a price range from €1.30 (yes, really, €1.30!) to €4.20. Astonishing value in any currency.
Le Chap', Park Hotel, 18 Boulevard Jean Bourrat: Currently Perpignan's hottest contemporary restaurant, thanks to chef Alexandre Klimenko's virtually Zen approach to Mediterranean cooking. A four-course menu (with paired wines) come in at either €75 or €55, depending on menu option chosen.
++++++++++++++
Three Places To Go/See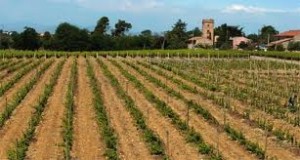 Vineyard: What a fabulous location – Domaine Lafage is situated between the sea and the mountains, on the road between Perpignan and the Mediterranean coast. It's owned by qualified 'vignerons' Jean-Marc and Eliane Lafage, and produces a total range of twenty wines across 700,000 bottles per year. The vineyard features in guides from Decanter, Robert Parker, Bacchus and Wine Advocate, so the Lafages are clearly doing something right.
Beach resort: Canet en Roussillon is less than fifteen minutes by car from Perpignan, and is, during the summer months, an all-ages magnet for beach types, water sports enthusiasts and boating aficionados. The town, located scenically at the foothills of the Pyrénées, is twinned with (this one is for you, pub quiz fans) Maynooth, Co Kildare.
Landmark: The Palace of the Kings of Majorca overlooks Perpignan from its lofty location on the hill of Puig del ray on the south of the city. A fortified palace in Gothic style, it is organised around three courtyards, and retains its regal splendour from its stairs, armatures and towers, all of which are made of cut stone and various coloured marbles.
++++++++++++++++++++++++++++
Hotspot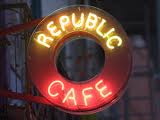 Republic Café, 2 place de la Republique. Located in the centre of town, this place is quieter, inevitably, during the day, when it attracts the passerby tourist crowds eager for a seat and an open air gander at the activity in the square. At night, however, the DJs kick back, and as you mosey around and about inside you actually discover how cool and lovely the bar itself is. There isn't much of an opportunity for conversation as the music heats up, but that's why it's such a hot night hotspot, yes?
(This first appeared in The Irish Times, June 2010.)