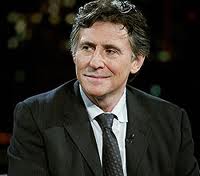 It isn't often you come face to face with one of the most recognisable faces in contemporary cinema – an Irish actor who claims not to know the meaning of the word "brooding" (we don't believe him), and who has been described (by the New York Times) as a "rare contemporary actor who can turn an air of splendour into a sustained gale-force dramatic wind."
Gabriel Byrne (for it is he) is a fine actor with a substantial, credible body of work to his name; he is also the age (he's in his 60s) where his sense of gravitas and authority is essential when it comes to defining the notion of cultural identity in the arts, how Ireland is perceived as a country, and how the Irish perceive themselves. Byrne points out as examples of engaging with the latter two states the films Ryan's Daughter and The Quiet Man. Each film is important, he argues, in that they reached major audiences around the world, but they also helped to perpetuate certain images of Ireland that have been beneficial as well as – for some people – controversial.
"John Ford, a masterful filmmaker," says Byrne, sitting in a plush room in Dublin's venerable Gate Theatre, "was making a mythical film about Ireland in The Quiet Man. Yes, you can see it as a film in the literal sense, but that's like looking at a fable and claiming it actually happened. So for, say, an American audience to look at The Quiet Man they see a film. For Irish people – who are acutely aware of how we are presented abroad – we look at it and we bristle. We tend to say we're about much more than that." Byrne agrees that, unfortunately, there is a sizeable audience for the kind of vapid and exploitative versions of The Quiet Man, which was, he is almost at pains to stress, constructed by a master storyteller. What he is most conscious of is to redefine what it means to be an Irish person in America.
"We are a very complex, sophisticated people, and we are multidimensional. The idea that we are thought of on the one hand as great storytellers, dramatists and poets is fine. But we're also thought of as rebels and drunks, and so forth. Our humanity, and the complexity of who and what we are as people, tends to be lost. The job of the artist is to redefine who we are, to challenge those stereotypes, and to challenge the old images. Those old images have a power to live on, in that images of The Quiet Man will live on as long as there's a St Patrick's Day. Although it has done our tourist industry some good, we have so much more to offer than that kind of Ireland."
Born in the Dublin suburb of Crumlin in 1950, the eldest of six children, Byrne's notions of becoming a priest were quickly knocked on the head when, in England in 1965, he was walking up the stairs of a bus. Ahead of him by several steps were two teenage girls, wearing the de rigour style uniforms of the time – mini skirts. As he looked up and then away in some embarrassment, he realised that perhaps the priesthood was not for him. Returning to Ireland to train to be a teacher, he didn't become a full-time actor until his late 20s; in order to pursue the dream of acting as a career, after treading the boards at Dublin's Focus and Abbey theatres, he moved first to London (where he joined the Royal Court and Royal National theatres, and became friends with another struggling Irish actor, Liam Neeson) and then to America. It was in New York that he married actress Ellen Barkin (whom he subsequently divorced in 1999), and where he started the next successful phase of his career.
Film roles in the likes of Miller's Crossing ("not just his best film," according to film critic David Thomson, "but one of the best performances in American film") and The Usual Suspects put Byrne on a map he has yet to remove himself from. "I didn't go into this job to make money or to be famous, or to do anything more than enjoy myself," he contends. "I left Ireland because I wanted to test myself, to see how far I could go creatively, and as a person. To break through my own fears, too. I had always thought that exile and emigration were very sad things, and yet at the same time I was pushing myself to experience leaving Ireland. In one way, I never left Ireland because I return constantly – in fact, I see myself as an Irish actor who works in America."
He freely admits that some films with his name on them have been made solely for the money, but is adamant that most of them have made have been "because I cared what the film is trying to say. That's always been my primary motivation, but in order to continue to make the kinds of film that you want to make you have to make commercial films now and again. Ultimately though, it's about testing myself." Byrne has done this again and again, often in the commercially lower profile area of theatre, and occasionally on US television. In the latter, he has acquitted himself with aplomb via the Emmy- and Golden Globe-winning In Treatment, wherein he subtly portrays psychotherapist Paul Weston, a man who can solve the problems of his patients but not his own. The television series has now bowed out after the third season, giving the actor more space to negotiate an array of offers for upcoming work.
In Treatment, he says, was an exhausting experience; it was, he recalls, "like being on stage every single night – tough work, but the formula itself was very interesting, and to work with the other actors was brilliant. For me, though, it was a continuation of theatre work, and the fact that it became so critically lauded in America was a bonus, because you never, ever really know how something is going to turn out. "So it was a risk – another one for me! People were saying to me I shouldn't do it, but then people advised me not to leave Ireland, not to leave London, not to leave New York, and not to leave Hollywood. I have always done what I have instinctively felt excited about. Sometimes, many times, in fact, I've been wrong, but looking back over what I've done so far I'm pleased with the integrity of my choices."
Instinct – is that a defining character trait? "Yes, it does define me. Relying on instinct, not being afraid is great, so any time I talk to young kids I advise them to go for it." Such advice, Byrne admits, lies in the memory of being a kid himself and of feeling not only overawed by the (to his then way of thinking) often unapproachable nature of the arts but of being undermined by his working-class background and the disapproving demeanours of those in authority.
"I used to feel like that about this place," he says, waving his hand vaguely to denote the  Gate theatre. "I remember I wanted to see plays, and to see people like Michael McLiamoir, but the amount of nerve that it took me at the age of 15 to walk up those stairs… I felt people were looking down at me because I was from a certain part of Dublin; I felt the attitude was, sure what would I be doing in the Gate Theatre? And sure what would I be doing at the Abbey? So I was intimidated by places like these – the art galleries and the museums. I thought you had to be a certain kind of person to go into them. Cinema? Well, the great thing about the cinema was that it's democratic and it's in the dark, so no one saw me!"
We see him a lot of the time now – as we noted earlier the face of Gabriel Byrne is a very recognisable one. From early acting stints in Irish television programmes such as The Riordans and Bracken to In Treatment and always forthcoming movies, Byrne has travelled the distance from greenhorn to veteran with some grace, verve, nerve and poise. He says he's just getting on with it. "It's an issue that everyone comes up against sooner or later," he smiles resignedly. "That line from The Who's Pete Townsend – 'hope I die before I get old' sums up the incomprehensibility of what ageing actually is to a young person. I don't feel the age I am, mind you; I don't feel that it's time to put up the white flag. In fact, I feel there is still so much to be learned that I hope I have enough time to do some of it.
"What keeps you vital is curiosity, being involved and being in the present, connecting with other people and being open to new experiences. I woke up one day, and realised that I didn't have any more time for nostalgia – enough already! It's live in the past or live in the present, and I choose the latter."
(This interview first appeared in Cara magazine, July 2011.)