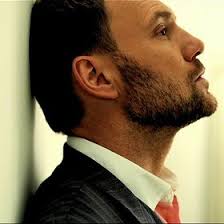 Even when he's sitting on a comfy sofa, with a glass of iced water resting on a nearby table, David Gray's overall demeanour seems taut, tense and not a little bit constricted. It was exactly the same over 20 years ago, when the UK singer-songwriter released his first pair of albums, A Century Ends (1993) and Flesh (1994), two records that crackled with the diatribes of Bob Dylan and the knots of Van Morrison, and fused them into a new kind of toughness – acidic, acerbic and melodic with a side order of bile.
It's safe to say that Gray – over 20 years older and considerably richer due to the immense mainstream success of 1998's White Ladder – hasn't changed that much. When I ask him what his default setting is he repeats the question twice before allowing it to drift away. When I then ask him what he does to relax, he laughs out loud, but it isn't a very funny kind of laugh. Next question! All this noted, Gray is extremely polite, but the undercurrent of barely-contained tension remains throughout, decreasing noticeably only when the conversation draws to a close.
Gray, however, is at if not a crossroads then yet another departure point. His latest album, Mutineers – his first since 2010's Foundling – sees him reconnect with a fervour he seemed to have lost following his acceptance by the mainstream audience that lapped up White Ladder and subsequent albums A New Day at Midnight (2002) and Life in Slow Motion (2005). Admitting to a loss of form during the latter half of the Noughties, Mutineers sees a resurgence of energy and focus that, he says, reconnects with his splenetic early work.
"I think the new album has raw energy, a rebirth. If that sounds profound, then so be it. When I look back on the early albums I just think of how ham-fisted the delivery is; how it's impossible to recapture all that piss and vinegar, which I feel sure is only yours to give just the once. It's musical adolescence in a way, and then you grow up. I'm a different man now, I've moved on. I don't hanker to return to anything, and besides, it's never what you thought it was. It got torn up some years ago, but now it's back, repaired. Self-consciousness is the enemy, and so you have to find a way to get away from yourself."
This is something that he had to do, he reveals, following his Noughties slump, which he infers was as much creative as personal. After White Ladder brought him much success and money, he says he ventured, unwittingly, into some kind of foggy wilderness. He looks distinctly pained recalling it. "White Ladder was very much a 'finding-myself' moment, and then it went all out of control. I took a graceful arc from obscurity to ubiquity, and all the records after have been part of that particular chapter. Coming out of the Noughties, I just felt beat up, physically and mentally. And bored. I knew I was at the end of something. I needed to do something else, but didn't necessarily know what it was. I knew all of the things I didn't want, but not what I did. I began to find new ways to write, and the phrase I kept using was that I needed someone else in the studio to help me find the keys to the city; someone who would take me to place that I hadn't heard before. And that person was Andy Barlow."
British producer Barlow was, says Gray with a glint in his eyes, someone that he clicked with straight away. Setting up a stringent recording schedule in The Church (a studio based in London's Crouch Hill that Gray bought from Eurythmics member Dave Stewart in 2004, and which he then sold late last year to Adele's producer and co-songwriter, Paul Epworth), Barlow was given an equally strict brief by Gray: he was not to let the singer-songwriter make the same record he'd made before.
"Andy is a gentle kind of guy, very different from me," notes Gray, somewhat pointedly. "He's very sensitive, but he took me on creatively, he stood up to me, he was very courageous in the line of fire. I'm not an easy person to stand up to. I obviously know what I'm doing in a studio, and I go about doing it in no uncertain terms. It's all for the general good, I swear! We're there to make music, you can't beat about the bush, you have to get on with it."
Gray readily admits – with a wry smile on his face – that Barlow had difficulty coping with the way he worked, claiming it was one of the hugest challenges they faced together. "He found me too intense." Quelle surprise. The sessions began with sifting through a sack full of songs. "Andy advised me to listen how I talked about them," remembers Gray. "He made it very clear to me that all I could talk about was the weight, the responsibility, the import of the songs. He said I was making it sound like a prison sentence. He was right…"
Barlow made Gray see how he had, in a manner of speaking, dehumanized himself – "how I'd turned myself into a carthorse that puts the blinkers on and ploughs the field. He showed me that I was closing my eyes to an awful lot of stuff. But I was fractious. I wanted to make things work immediately; I wanted to work very long hours in order to get it right, but Andy just couldn't cope with the way I was in the studio. And working to his rhythm – he'd need to go out of the studio for 30 minutes or so to get a breather from me – was something I just couldn't do, either. But I needed what he gave me, and so I had to find a way to work with him."
The recording process was, says Gray, "agony, a beautiful agony, but working his way rehumanised me. We went through the list of 30/40 songs and most of them he said he couldn't work with. What else have you got, he'd ask me. Anything you're not sure about? Anything weird or wonderful? He encouraged me down paths I'd never walked on before. And he was right, because the moment of discovery, when you knew a song worked, was profound. That kind of creative spontaneity is priceless."
Such discovery was witnessed first-hand by a select Irish audience last December at Dingle's Other Voices event, where Gray, enabled and assisted by a band that included Irish musicians David Kitt, Lisa O'Neil and Mossy Nolan (who continue to make up a portion of his current touring band), premiered this new material. From then to now, he has been fine-tuning intently, tweaking intensely, tinkering until everything was to his satisfaction.
I ask him again what he does to relax. The reply is half bark, half gruff humour. "I torture producers!" It figures, of course, but aside from that? Gray relents somewhat, eases slowly into an answer that makes sense. "My favourite thing is walking, nature, looking at birds, flowers, jumping into the sea. I lose myself in the natural world; it obliterates me, to be honest."
People ask him, he admits, does he lose himself in the natural world in order to write songs? "It's the exact opposite – I forget about writing songs. Thank God!"
(This first appeared in The Irish Times, June 18, 2014.)