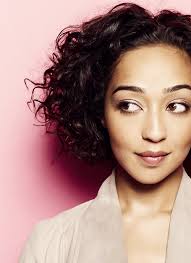 Ruth Negga looks so compact and anchored sitting in a large sofa chair, covered from neck to toe in very stylish, dark clothes, that she seems like a small statue in need of sightseers or admirers. Certainly, the Irish-Ethiopian actor has no shortage of the latter, as her profile has risen so much in the past few months that it would take an earthquake to bring it crashing to the ground. It has been a much-deserved increase in recognition, too – for the past ten years, 35-year-old Negga has been chipping away with small parts in movies and television series. Always identifiable because of her classic looks – as well as a style so original that if she were to bottle it she could easily retire on the proceeds – there was nonetheless a feeling that she was always better than some of the material she worked with.
Signs of imminent crossover success were there (seasons one and two of the authentic Irish crime drama series, Love/Hate, her fiery, nuanced portrayal of the Welsh singer, Shirley Bassey, in the 2011 BBC television movie, Shirley), but it now seems a certified bet that her time in the spotlight has well and truly landed. The reason for this is Loving, a US independent film that has been wowing critics and audiences alike with its simmering, tense true-life story of interracial marriage in 1950/'60s segregated USA. As Mildred Loving, the black wife of white construction worker, Richard, Negga's poised and economic central performance holds everything together.
The saying that cream will always rise to the top is apt – finally, Negga is on the way. With Golden Globe and Oscar nominations in the bag, it is safe to assume that she will view 2017 as the year that changed everything for her. It is, Negga agrees, a long way from an outsider childhood growing up in County Limerick. And yet, she says, clearing her throat as if to emphasise the importance of what comes next, there has never been a plan.
"I never really thought about how I would go from there to here," she reveals in an Irish accent with English and American inflexions, while repeatedly fiddling with a plastic bottle ring between her thumbs and forefingers. "I just know I had always wanted to be an actor, to the point where I didn't consider anything else. So I didn't do any of the weekend children's acting classes or school things – I wasn't interested in that because I wanted to get straight into it. I was quite an impatient teenager – I wanted to get out of being a teenager, I wanted to get on with life!"
In the mid-80s, at the age of four, Negga arrived in Ireland, the daughter of an Irish nurse and an Ethiopian doctor. (Ask for further biographical details and she says her memory is vague about such things.) Aside from a BA in Acting Studies at Trinity College Dublin, her decision to cut out extraneous academic endeavours ("I wanted to be the boss of myself, and that's where acting came in. In many ways, it takes you to an unknown place, and I liked that from the very beginning.") brought her much quicker to where she wanted to be. Her formative teenage inspirations were the acting and music of David Bowie ("a man unafraid to be who he is") and the black consciousness writings of people such as Maya Angelou and James Baldwin.
"I grew up in a very white community in Limerick, and a part of me was clearly looking for some kind of self-identification, a reaffirmation of myself," she explains. "As a child, you look for reflections of yourself, and I found that in those authors. Black writing found a home in me, and I found a home in it. But not to the detriment of Irish writers – as a teenager, I read Roddy Doyle and Pat McCabe, and many others, so I was also very much aware of my Irish heritage."
She was searching for pieces of her own puzzle, wasn't she? "That's a good way of putting it," she allows. "I went to a lot of theatre when I was growing up because my mother took me to it, but film and music are also immediate, aren't they?" She remarks that the merging of Bowie's refusal to be pigeonholed, and the sense of identity she absorbed from reading, aided her path to becoming an actor. Expressing her inner creativity and conflict also confirmed the view of herself as being an outsider.
"Being Irish-Ethiopian, I think you know from an early age that you're an outsider, yet being that isn't necessarily a bad thing. There was something about it that I rather enjoyed. I'm not sure why, but I felt very special when I was a child, growing up in Limerick. But there's something good about describing yourself as something first before someone else does – you're championing it, aren't you? For many, regarding yourself as an outsider is a safe space in which to be creatively unsafe."
Unusually for people in her chosen career, she seems unconcerned about feverishly chasing work. If the freelance actor's anxious mantra is 'where's my next gig?', then Negga's is the opposite.
"Oh, I can't jump from one job to the next, and nor would I want to," she admits with mild surprise. "I don't have a prolific work ethic, or a need to be working all of the time. I quite like, literally, to stare out of windows. I like going home and doing nothing for weeks. That's important for me because I think I need to get my energy back. I don't enjoy working in a depleted way; it doesn't do anyone any favours, does it?"
Throughout Loving, Negga applies the principle of less is more, often employing a silent expressiveness that really does speak volumes. "Physicality is something ever more truthful than verbal communication," she reasons, "and I'm interested in that kind of dichotomy. You can say something, but your face can be expressing something completely different. Or they can be totally in sync. The great thing about acting is that nothing happens in isolation."
Such understanding of her chosen art form is, perhaps, the motivation why Negga chooses her work so carefully and sparingly. She is also, possibly, more cautious these days now that her face is so well known, but then that's what being on the cover of US Vogue does to a person. In a deft instance of narrative symmetry, she references David Bowie's ability to escape people's profiling.
She takes a similar approach with her acting roles across film, stage and television. From Breakfast On Pluto (2005) to Loving, from Phédre at the National Theatre (2009) to Playboy Of The Western World at the Old Vic (2011), from Love/Hate to her much-praised TV gig in the American fantasy/drama series, Preacher, Negga has continually reinforced her creative diversity. Mr Bowie would surely have approved. "I admired his elusiveness," she beams, which could be a feasible enough reason behind the vagueness of her own biographical chronology, "and I'm uncomfortable with people trying to define me."
We'll leave it there, then, but not before expressing the truth the way we see it: Ruth Negga is a superb, self-possessed actor looking the future in the face with lots of eye contact and no drama. "Art is beautiful escapism," she concludes calmly, rising out of the large sofa chair, dark clothes enveloping her slim frame, dropping the plastic bottle ring onto the floor, "and I'm reluctant to simplify it."
(This first appeared in Aer Lingus in-flight magazine, Cara, Feb & March 2017.)