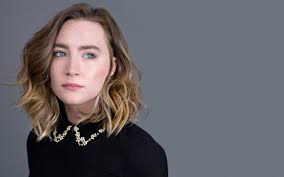 We don't like to say we told you so, but, well – we told you so… As far back as 2007, when 13-year-old Saoirse Ronan was nominated for an Academy Award for her role in Atonement (the film adaptation by director Joe Wright of Ian McEwan's 2001 shortlisted Booker Prize novel), the writing wasn't so much on the wall as all over the sky: the girl is going to be a star – simple as. And not just what you'd term (perhaps dismissively or patronisingly) as a 'child' star, either, but a bone fide adult one who makes smart work choices based on instinct rather than strategy.
But how did she get from there to here? Born in New York, the only child of Irish parents, Saoirse and her family moved to Ireland when she was three years of age. She gained entry, you might say, into the world of filmmaking through her actor father, Paul, who has worked on films such as The Devil's Own (1997) and Veronica Guerin (2003), as well as television shows such as Ballykissangel, The Clinic, The Tudors (and more recently, Love/Hate). Inevitably, the acting bug bit Saoirse at a very young age, and it continued to nip away as working on television and movie sets graduated from giddy novelty to established lifestyle choice.
She came to quite startling prominence in Atonement, where her instinctual portrayal of the duplicitous Briony came across as perfectly poised and effortlessly accurate. It was no wonder the Academy saw fit to nominate her for a Best Supporting Actress award (she also received a BAFTA and a Golden Globe Award nomination in the same category). It was also no surprise to see her smoothly negotiate the often treacherous and occasional career-ending path of being a teenager in an industry where youth is regularly sucked in and spat out.
And yet here Saoirse is: 21 years of age, looking the picture of self-confidence, and assured in the knowledge that she has said farewell to youth-oriented roles. The past two years and their accompanying movies has seen to that: lead roles in The Host, Byzantium, Violet & Daisy, and How I Live Now fully established her as a teenage actor that could appear in virtually every scene and leave an imprint of her character's identity on your mind long after the film is over.
The way she tells it, Saoirse sensed the difference in billing from Hanna (2011, which reteamed her with Atonement director, Joe Wright). She realised that the only options she could take from then on would be – depending on the movie and the director – to either lead from the front or work as part of an ensemble. 2014's The Grand Budapest Hotel (directed by Wes Anderson) and the same year's Lost River (actor Ryan Gosling's directorial debut) looked after the ensemble side of things. As for leading from the front – well, say hello to the bright city lights of Brooklyn.
In John Crowley's film (adapted by UK writer Nick Hornby from Colm Tóibín's 2009 book), Saoirse Ronan is there from start to finish. She doesn't just lead the film, she owns it frame by frame. That's some level of responsibility, isn't it? "I was absolutely welcoming that kind of responsibility," affirms Ronan, who has her slippered feet tucked up under her as she sits in a comfy sofa chair. She has accessory rings on her fingers, and is dressed casually, smartly. Her eyes match her demeanour: alert, intelligent, lots of depth.
"It isn't necessarily an ego thing, either," she adds quickly, "I just like knowing that I'm going to be at work from the day we start to the day we wrap. I like knowing that I've really grafted as hard as everyone else, and that by the end of it feel that I've put all of myself into it. I'm not used to having a relaxed shooting schedule, so I was more than happy to dive into a film as good as Brooklyn. It's great for the work ethic, and it's good to keep yourself sharp."
Another major difference, of course, is that Brooklyn is intrinsically an Irish story, and for the first time in a film Ronan is playing an Irish character – Eilis, a young woman, raised in the 1950s, who makes her way from Enniscorthy, Co Wexford, to New York. A beautifully told story of emigration, new lives, hopes, dreams, romance, and the assertion of identity and individuality over social and religious dictates of the day, Ronan sees justified parallels with her own background: her parents left Ireland for New York in the 80s, reaching out for the American Dream, only for it to evaporate before their eyes. They returned home with three-year-old Saoirse, setting up home in County Carlow. "The film is also very much our ancestor's story," she adds, "and so I felt an extra level of responsibility. That was quite overwhelming, I have to admit."
Brooklyn, of course, wasn't the first Irish-themed film that had been pitched to her. She chose it, she says, "because it took itself more seriously, and was more intelligently written than some of the other things I had come across, to be honest. There have been a few films made in the past – mainly by non-Irish people – that depicted Ireland in a very stereotypical way. I don't think those films captured our spirit, and so for Brooklyn to come along and really nail who we are, to capture that so brilliantly, is great.
"Colm Tóibín's book is incredible, but for Nick Hornby, a Londoner, to be able to portray so well the spirit the Irish have – and in such a subtle and beautiful way – was very impressive. On top of that, to have a female character lead us through that journey was something quite unusual. We haven't really seen that a lot in any type of film, have we?"
True, but there is something even more about Brooklyn that resonates with Ronan, and that is its representation of females in an era where post-WW2 society has defined them more as helpers than doers. Her head nods enthusiastically. "So many scenes in the film are female centric, and there's so much interaction between one woman and another, between older and younger, who are passing on wisdom and advice, guidance and direction. Regardless of whether people love the film or not – and obviously I hope they do – I genuinely hope that Brooklyn is part of the movement to set a new precedent of women in film."
There are no false claims being made when we state that Ronan's work choices over the past eight years have been equal parts wise and shrewd. When she was much younger, she admits that she was advised by her parents as to what roles to take on. Latterly, that is nowhere near the case, so how does she think of her career so far, and the choices she herself has made? "I've tried to be strategic over the past couple of years and it just doesn't work! It's also just the kind of person I am – I'm very much someone who works off instinct and intuition. I was never trained to do this. When it comes to career choices and jobs I've taken, of course in the beginning it wasn't a case of choice – you take what you're given, and if you get an audition you do it."
By the same token, she reveals, one job she was offered around the same time as Atonement, would have, comparatively speaking, offered her a reasonably substantial sum of money. She refused it, knowing intuitively – even at the age of 12 – that the type of movie wasn't the exact route she wanted to take. "I never wanted to be involved in any aspect of my life – friendships, relationships, tasks I have to do – if it's something that I can't given myself fully to. When I come across a project and it grabs me, I have to pursue it, so there has been no rhyme or reason about my career so far – it's just how I feel about the work."
Ronan discloses that, as she enters this new and different phase of her life, she is drawn more towards roles that show women in a realistic light. Considering that her favourite actors include the likes of Cate Blanchett, Tilda Swinton and Meryl Streep, this admission isn't too unexpected. "I've noticed in the past couple of years," she remarks, "that it's much more of a regular occurrence to speak with female directors about movies they've developed, written, and they're the boss of."
In the meantime, there are more films to wrap (including an adaptation of Anton Chekov's The Seagull, which sees Ronan co-star alongside Annette Bening and Elizabeth Moss). And in a continuation of the theatrical side of things, there is her debut Broadway role – indeed, her first professional stage role – to contend with. Along with British actors Sophie Okonedo and Ben Wishaw, and Irish actor Ciarán Hinds, she will feature in a new production of Arthur Miller's classic 1953 drama, The Crucible.
Saoirse Ronan shifts in her seat, dislodging a slipper in the movement. A look of mock fear appears on her face. For a few seconds, the bona fide movie star – and, as if it needs saying, one of the best actors of her generation – turns back into the teenage girl from County Carlow. "I'm terrified, but it'll be good!"
(This interview first appeared in Cara magazine, October 2015.)