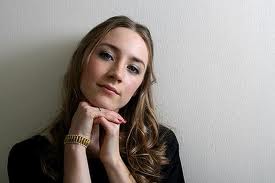 Beware of working with animals and children, say people who toil in the film industry; apparently, the former are unpredictable, while the latter are prone to bouts of sulkiness, temper tantrums and squealing requests for ice cream at the most inopportune moments (or is the other way around?).
And yet here's what film director Peter Jackson – the creative brain behind the Lords of the Rings trilogy and – what else – The Hobbit movies has to say about Saoirse Ronan: "Saoirse has that X Factor. It's more than just acting skill; she makes you want to watch her. It's an incredible quality that only the very best film stars have. Saoirse reminds me of a young Cate Blanchett [who worked with Ronan on Hanna]. She's terrifically gifted and she commands attention – it's quite phenomenal. When you say 'cut', she's a teenager again, full of life and bouncy and funny and incredibly witty."
So here she is, the young woman from County Carlow – full of life, bouncy, funny, witty. The Oscar nominated actress (for her role as Briony Tallis in the film adaptation of Ian McEwan's masterly novel, Atonement) is dressed down in jeans, and is displaying her sense of dayglo derring-do via Halloween-esque lime green fingernails. She tucks her legs under her, folds her arms, and generates the kind of sensibilities that non-parents might mistakenly assume are older than her years.
Young people these days? Well, young people these days are smarter and more sophisticated than we ever were, that's for sure; and lest we forget, Ronan has been working with and hanging out with adults for a quite few years now. Accompanied on and off set by her parents, Ronan can count the likes of Kiera Knightley, James McAvoy, Colin Farrell, Michelle Pfeiffer, Ed Harris, Bill Murray, Catherine Zeta Jones, Guy Pearce and Timothy Spall as either friends or passing acquaintances (although if she has any on speed dial she isn't telling). Add to this list the directors she has worked with (from Atonement's Joe Wright and The Lovely Bones' Peter Jackson to Peter Weir, who directed her in The Way Back, and Neil Jordan, who directed in Byzantium), and you have on one hand a seriously, hardworking person, and on the other an occasionally skittish actor. It's a balance she seems to be managing without any undue difficulties.
"Whenever I'm back with my friends, I'm hyper," she says. "I'm truly myself, and it's such a different side of me. When I'm on set I'm myself as well, but it's a different self: I'm professional, I'm less of a giggler. But when I'm with my friends at home I receive a different form of energy to the kind I get on a movie set. So when I'm with them I make the most of it – happy, energetic, giddy."
Born in New York, the only child of Irish parents, Saoirse and her family moved to Ireland when she was three years of age. She was inducted, you might say, into the world of filmmaking through her actor father, Paul, who has worked on films such as The Devil's Own (1997) and Veronica Guerin (2003) as well as Ireland-based television shows such as Ballykissangel, The Clinic and The Tudors. Clearly, Saoirse was bitten by the bug early on, and it continues to bite, as it seems working in movies has graduated from novelty to lifestyle choice.
"It's always going to be exciting," Saoirse asserts, with perhaps a hint of over optimism, "because every movie that I've worked on has been a different experience, be it the location I've worked in or the people I've worked with – or even the characters I've played. I've been very lucky that I've played very separate kinds of characters. I know what I'm doing is a very special thing, and I know I'm very lucky to do it. I'm just glad I figured out early on that this is something I should and want to do."
Although randomly working away in the background of Irish television, she came to prominence some years ago in Atonement. The film treatment of Ian McEwan's novel required someone of tender years to play the character of Briony, who, in an act of lying and betrayal, alters forever the course of events for two people. Ronan's portrayal of the young Briony is perfectly poised, her instincts natural, her cut-glass, upper class English accent uncannily accurate.
It's no wonder the Academy saw fit to nominate her in the Best Supporting Actress category (she also received a BAFTA nomination in the same category). She has since played other equally distinctive roles, which can be put down to either shrewd parental/agent advice or an intuitive knack of knowing what's good for her.
"When any actor starts they just want to get a job," reasons Saoirse, "but as you become more experienced you can get a bit picky, and think about what type of movie you need to do or what an audience might like to see you in next. Because I've done a lot of drama up to now, I know I want to do a comedy at some point. So I have that in my head for the future, but at this stage I think it's important for me to play people not at all similar, because it seems to me that a lot of actors fall into that trap."
So far, so good; her workload of two movies a year is manageable. As is, it's fair to say, Saoirse's eminently steady balancing of real life with Hollywood's big bright, bouncy bubble. "We've been trying to keep it as normal as we can when I'm in Ireland. When you're at home you're completely removed from all of the interviews, Hollywood, and so on. But it's also difficult because all of the people you're with are removed from that lifestyle. They have no idea of what it's like. And then Carlow is a small county, so pretty much everyone knows who I am. It's strange walking down the street you've spent your life walking down – people beyond your neighbours pointing at you isn't easy to deal with."
Getting to be a recognisable face is, says Saoirse, "a bit weird, a bit strange. It wouldn't be my favourite aspect of what I'm doing." Her modus operandi (assisted, presumably, by those close to her) is resignation of sorts: she's getting more used to it simply because she has to, yet she isn't sure that she will ever become fully accepting of it. "I mean, it is quite strange to have people you don't know looking at you," she says, not without reason. "Some people don't realise they're doing it. It's odd."
She has a website devoted to her (saoirse-ronan.org), which she thinks is "quite nice", and is thankful to the people who are behind it. "I've been in touch with them via Twitter, and I don't mind it as it's really a collection of stuff about me. For actors my age, it's usually done with the best of intentions because it's operated by people close to my age, rather than a weirdo in their 50s."
Over the past few years and looking ahead at least two years, Saoirse has been/will be spending quite a lot of her time on film sets. What is life on sets like? Occasionally dull or mostly exciting? Work is work, she remarks, but she loves it. "I can fully be myself when I'm there, and I have the best of times. It's never really dull, but I suppose when you're not involved in very interesting scenes it might be a little bit less exciting, even if there is always an element of excitement in what you do. And I reckon that even if you're three months into a shoot, and you have another four to go, that keeps you going. As well as the people you work with – who love it the way you do, who have the same interests and the same passions – it kind of makes the tiredness go away, it feeds your energy.
"There's also something of a community spirit while you're on set – you just become a family. You're working every single day for a long period of time, and although there are people that you might not get on with – which is just like life – you become very close. It makes sense – you can't really prevent that happening."
And what about friendships with other actors? The impression that the Plain People of Ordinary Life (that's you and me, folks) receive from giddy gossip magazines and over-excited tabloids is that movie stars see each other all the time, swap style tips as they wait for another bottle of expensive wine to be uncorked as they dip their perfect little tootsies into a heated outdoor swimming pool. The reality, of course, is that life gets in the way.
"There are some people you are friends with on set, and then that's it – if you see them again, great," says Saoirse, without naming names. "There are other people who you're really good friends with on set, you keep in contact for a while, and then you lose touch with them. And then there are people who you click with straight away and keep in touch with for years. You meet up whenever you can. And then there are people you just don't want to keep in touch with!"
Which again, is like life. Refreshingly, Saoirse says all of this without coming across like a spoiled teenager, full of affectation, airs and attitude. The impression you get from her is that not just will her talent spur her on to greater and better things, but that her sense of self will guide her safely through the pitfalls of working in an industry where growing up in public is often a painful experience.
Frankly, we see Ronan being around for a very long time, if not always in demand then certainly as much as possible in control. It doesn't surprise one bit to hear that at some time in the future she wants to direct as well as act.
"Acting is only one part of the film making process," she rationalises before wish-listing the directors she'd ideally like to work with: Jim Sheridan, Steven Spielberg, Joel and Ethan Coen, Guillermo del Toro, Quentin Tarantino. "The appeal of directing is having ideas in your head and working with other people to bring those ideas out. It would be such a great thing to put your own ideas on screen; it's great to be creative, and directing is that. When you see people such as Pete Jackson and Peter Weir working – they have such passion for it, they're so focused. They inspire me to want to do it. So, yes, I think I will. I hope so!"