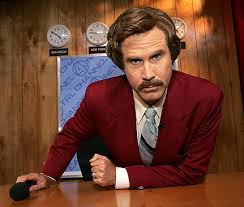 Pity the comic actor or stand-up comedian that has to go about their daily routine secure in the knowledge that at some point in their day they will come face-to-face with a member of the public. And not just an ordinary member of the public, but one who is an avid fan, and whose life will be enhanced a thousand-fold by not only meeting their hero but also by the hope of engaging in a sizeable portion of comic dialogue or witty banter with them. Someone as famous as American actor/producer/comedian Will Ferrell has encountered such fans on a regular basis and has long since made peace with himself on the topic.
"I don't really worry about that expectation," he reasons quite seriously. "There are moments when you encounter people and you feel like being funny, and there are moments – like when you're in a hurry to go somewhere, or if you're engaged in something that doesn't require jokes – when you don't. I live my life how I like to live my life, and I don't really let that sense of expectation get in the way, but there are definitely moments when I know I've totally let people down by not being amusing. Their reactions are like, 'oooh, you're so normal.' And I'm like, 'yes, I am.' But other times? Oh, I'm a riot."
Born 46 years ago in the middle-class Californian suburb of Irvine, the son of a teacher mother and a musician father of Irish extraction, Will Ferrell has rarely suffered from lack of popularity – he started making people laugh at school in first grade when he learned the comedic trick of opening a door, having it hit the bottom of his foot and then snapping his head back suddenly as if it had banged into his face. Along with tricks like this, he recalls he was large for his age and quite athletic, playing for the varsity football team and captaining the varsity basketball team. Come high school, between wearing pyjamas into class and being voted 'Best Personality' in his senior year, it was reasonably clear where Ferrell was heading.
Graduating with a degree in Sports Information, a career in media/journalism (with a sports bias) was looked at but then quickly leap-frogged. "I don't think I had the courage to admit to myself that I really wanted to do comedy for a career," says Ferrell, "so I went off to college to do the degree. I was always fairly athletic, played on sports teams in high school, and I loved watching sport, so I thought the degree would get me a blend of what was a real job and something that was slightly entertainment-based. Immediately upon graduating, though, I had this nagging feeling that if I didn't give comedy a shot I'd regret it. I never got the sports thing off the ground, but I was fine with that."
An understanding home life helped Ferrell with the transition from college to comedy. Although his parents had divorced when he was eight, his father and mother were mutually supportive of his attempts at furthering his career as a gagman. "They were really good about it. I didn't have a job coming out of college, so I moved back home and lived on the couch for a couple of years. My very understanding mother said she would treat that time at home as my graduate school, and that as long as I continued to do things such as taking acting classes or going out and trying stand-up comedy in clubs, then she could support that. I was lucky enough to have someone who allowed me to take those risks without a massive underlying financial burden."
And what about his father, a working musician that had played with acts such as The Righteous Brothers? "Well, he's been a musician for over forty years, so he knows all about following the career path that you really want. When I told him I wanted to get into comedy and give it an earnest go, he said that if it were all based on talent then he wouldn't worry about me. He advised me, however, that success in anything, particularly in the entertainment industry, is also based on luck. It wasn't much of a ra-ra-ra speech, but it certainly took the pressure away."
In 1991, Ferrell dragged himself off his mother's couch, moved to Los Angeles, where he suffered more than several ego-grinding auditions ("one guy said, 'I'm not trying to be mean, but you're not good.'"), joined the improvisational comedy group, The Groundlings, and by 1993 had joined the late-night live television comedy show, Saturday Night Live (SNL). He remained an integral member of SNL for seven years and remembers this early period of his career as a mixture of confidence, ignorance, uncertainty and typically youthful bravado.
"I approached it as if it were a tough thing to do," he reveals, "a tough thing to succeed at, but that I would give it a shot and have fun with it. I knew it was such a crapshoot, anyway, and so I thought I'd just see what happened. I worked really hard, though, took it very seriously, and yet in many ways I didn't take it seriously at all. I just tried to have fun with whatever was thrown at me, and that seemed to serve me very well."
One little known fact about Ferrell is his uncontrived familial connection with Ireland. Yes, he has been known to wear the Irish rugby jersey around LA, and yes, among his many visits to Ireland he received (in 2008) the James Joyce Award from University College Dublin's Literary & Historical Society. ("As I perused," he began his acceptance speech, "my leather-bound volumes of Ulysses, Finnegan's Wake, Dubliners, and Portrait of the Artist as a Young Man, standing in my mahogany library, a lot of feelings ran across my head – like, man, I should have read these books.") Yet unlike other hugely successful Hollywood stars we could name, Ferrell has a genuine, emotive attachment with Ireland. It emanates from his father, whose family origins are from County Longford.
"I've been to Ireland about eight times," enthuses Ferrell, "and every experience I've had has been just terrific. In fact, some of my fondest travel memories in Europe are in Ireland. I've gone on a couple of trips with my dad and my brother where we've tried to trace the Ferrell line back to Longford. I'm not sure we were hugely successful in that we can't say with a degree of certainty that there's a specific moment where my family starts. To be honest, we're a bit of a mutt, but that said, we do claim Ireland, symbolically or otherwise, as the home of our roots."
Ferrell fondly recalls his first visit to Ireland over 20 years ago. In his first season of SNL, he and fellow SNL colleague Adam McKay and writer friend David Koechner (each of whom Ferrell has continued to collaborate with) flew into Shannon Airport for a week's rest and recreation along Ireland's west coast. "The only reservation we had was a car rental. We drove up and down the coast, and we just pulled into towns along the way, bedded down in a B&B or a hotel – and we had the best of times. We made our way up to Connemara and Galway, and so on, so that whetted the appetite for coming back. The next time after that was a trip with my father – I'd asked him where in the world did he want to take a special trip to, and without a moment's hesitation he said Ireland. So we came back and explored the Ring of Kerry, Dingle, and Dublin as well. Genuinely, Ireland is quite a special place for me, and I love going there."
There is about Ferrell a sense of being rooted in the here and now. With huge comedy movie successes like 2003's Anchorman: The Legend of Ron Burgundy and 2007's Blades of Glory, he may be one of the highest-grossing comic actors currently operating out of Tinseltown, but there's a sincere common touch about him that is borne out of having experienced more than several years of hard knocks. Family, too, and a sense of belonging, of loyalty, seem crucial to him.
He's not just a one-trick comedy pony, either, as highlighted in deservedly acclaimed serious roles in the likes of 2005's Stranger Than Fiction and 2010's Everything Must Go. He must surely look back on his early days as a struggling actor and comedian with something approximating a smile, if not a smirk? Would he change anything?
"I don't know if I would really have done anything differently," he muses. "I grew up in southern California and stayed in Los Angeles. I knew that city very well, whereas other cities such as Chicago and New York might have been foreign entities for me. In LA, I discovered the Groundlings, and I think I did that exactly right. So somehow – and I'm not exactly certain how – I landed on my feet with all of this."
(This feature first appeared in Cara magazine, January 2014.)